I live in an artist colony, a government sanctioned one – tax-credit, low income housing for artists. We have 50 residential (live-work) units here at the Tashiro Kaplan, as well as 25 or so arts related commercial spaces, including several studios and galleries. The building was created in response to the usual cycle of artist driven gentrification, and every year it comes closer to becoming a lonely island of affordability in a neighborhood that was once dominated by artists. This neighborhood, Pioneer Square, was the first in the nation to establish a monthly art walk, ongoing now for nearly 35 years. With the demise of other nearby art colonies, some rather notorious and sorely missed, our TK has become a hub of activity on First Thursdays.
The building opened to great fanfare in 2004, but some of the resident's expectations were dashed once the reality of legal living set in. There would be no free-for-all on artwalks, indeed, after the first year, residents who weren't visual artists eschewed public openings, so we acquiesced to having an annual Open House. As the years wore on, an idea floated around, "What shall we do for our 10th anniversary?" "Let's close down the street!" I can't remember the original source, but talk of putting a water slide down steeply sloped Washington St. almost always followed immediately.
In the end, we did neither of those things. We didn't have to. Whatever the origin of the art street fair idea, it stuck with me, like an annoying sliver under the skin I couldn't extract, so I lobbied, pleaded, and persuaded until the community here came together, and we had critical mass to put a plan in action. The most gratifying development early on was that the City decided to give us our first permit option, closure of Prefontaine Pl. S. Prefontaine is wide, tree-lined, relatively flat, and right outside our front door, perfect for a festival. However, it is also the main egress for the majority of public transit buses servicing downtown from the south. I don't know how it happened, there were no back room machinations involved that I could discover, they just said yes, well, after a bit of seemingly obligatory protest. The victory was magical, and that magic helped spur the community effort. After a few stumbles and minor glitches, completely expected when an ad-hoc group comes together to do something none of us had ever done before, we made it happen, and it was an absolutely glorious day. I'm not being hyperbolic, it truly was one of the most joyous days I've experienced in several years.
We put together a stellar program, some of the best bands in the Northwest played on our main stage, a variety of performers activated spaces inside and out, and hundreds of visual artists filled every nook and cranny of the building. Here are some highlights…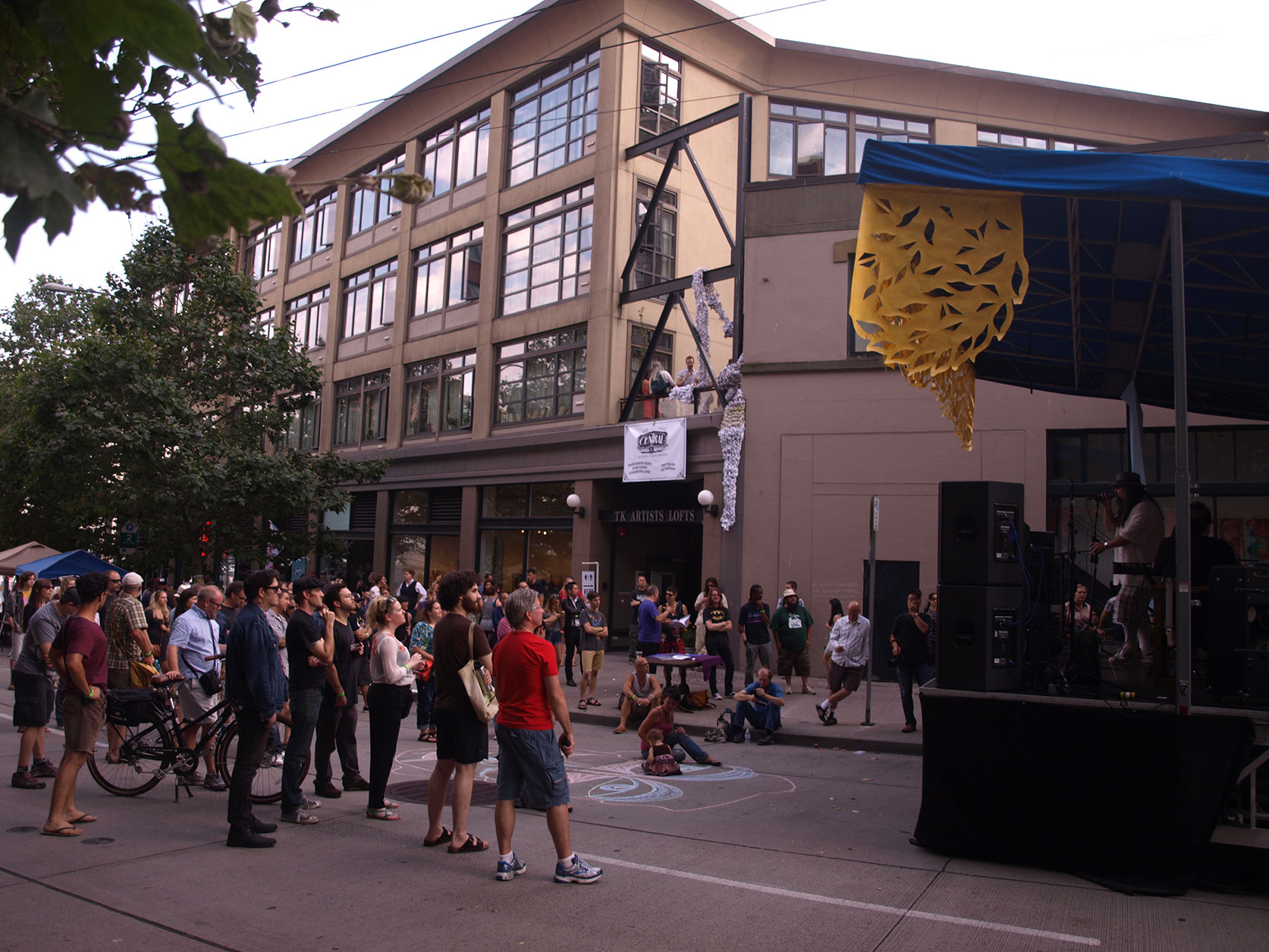 Everyone involved, from attendees, to artists, volunteers, sponsors, and community partners was pleased, and many have asked to make Art of the City an annual event. And so we shall.
Toronto Island in the Sun
In the midst of the massive job of coordinating the efforts to bring about the street fair, only 3 weeks away, I left the country. This was my first artist residency, and scheduled long in advance of securing the date for the TK event, so off I went. It took 3 planes to get me to Toronto, but it was a lovely day for flying, clear skies almost all the way there. I got great shots of the Cascadia volcanos, Chicago, Detroit. I was to spend two weeks on Toronto Island, at the Artscape Gibraltar Point facility.
There's too much to detail of the difference in culture, especially as regards to artists. Yes, I realize most folks think, "It's only Canada". Only Canada, where they have an artist union that managed to get legislation in place guaranteeing the payment of artists – for simply exhibiting their work. Only Canada, with its national health service… but we're (we in the useless, or perhaps pejorative sense, as if we citizens have any real impact on national policy) are busy mucking up universally beneficial social policies with various influences, seen and unseen.
The impact of this culture is that artists take their work more seriously, and they are afforded greater respect – if my short stay could in any way give me some small insight.
The facility itself would never pass code in the US, but that didn't matter. I walked into a place where my every want and need as an artist was met in every way. There were 16 of us, all producing work related to the figure. Facilitator Teresa Asencao did a masterful job of "curating" the various personalities. The mutual support was remarkable. Social time was wonderful, we built bonfires in the backyard in the evenings, and told stories until it was too late for all else but sleep. I was one of two artists from the US. The Canadians embraced us. They arranged for critics and academics to visit and give personal feedback. I felt like I was on a different planet, where cooperation and mutual respect replaced ego-driven competition. Again, this was a short stay in a specialized environment, nonetheless, the differential treatment I experienced evinced tears at parting, along with the sadness of concluding connection.
Despite having to tend to numerous erupting issues back home via my laptop, I was highly productive in that nurturing place. I produced 4 new large scale drawings:
I hope to go back, to replenish all that is squashed and withered in the harsh day to day at home, to feel welcomed again, for a short while anyway. If I had any extra energy I would lobby for an artist's union to establish pay as a standard for us here, like this group, but other tasks take precedent. This is a project for the future perhaps, something I hope to implement for the next street fair, if it's feasible.